Archive for » October, 2011 «
In My Mailbox is hosted by The Story Siren.
—
In a much larger package full of winter holiday gifts for people, I did receive four books this week, two of them about werewolves.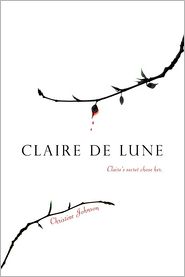 (IMAGE DESCRIPTION: White cover with thin black branches curving down from the top right and up from the bottom left. One of the small leaves on the top branch is red and dripping blood. At the center of the image, CLAIRE DE LUNE is written in black font and "Claire's secret chose her." is written in red. Christine Johnson is written in red font below the bottom branch.)
Claire De Lune by Christine Johnson
Torn between two destinies.
Claire is having the perfect sixteenth birthday. Her pool party is a big success, and her crush keeps chatting and flirting with her as if she's the only girl there. But that night she discovers something that takes away all sense of normalcy: she's a werewolf. As Claire is initiated into the pack of female werewolves, she finds her lupine loyalty at odds with her human heart. Burdened with a dark secret and pushing the boundaries of forbidden love, she will be forced to make a choice that will change her life forever.
I have heard really good things about this, and I am very excited to read it, and hopefully to be excited for Nocturne, the next book in the series.
(IMAGE DESCRIPTION: A computer-generated werewolf stands in front of thin dark plants, fog rolling up on the ground. The wolf has breasts with nipples. In blue at the top of the cover is BITTEN BY MOONLIGHT. Beneath it, in a lighter blue, the names of the authors: Catherine Lundoff, Tyree Campbell, Erzebet Yellowboy, and Racheline Maltese. At the botton of the cover, in the same lighter blue, is Edited by JoSelle Vanderhooft.)
Bitten By Moonlight edited by JoSelle Vanderhooft
The full of the moon is a time of transformation for the characters in this collection of four novellas, in more ways than one. Becca discovers menopause is more than just a question of hormones. Gretchen's life, which she views with shame and horror, may not be the worst that can happen. Paulina just wanted a place to sleep, but fate has other plans. And are there really vegan werewolves? Terror and joy, love and death, fear and courage: all facets of the human, and inhuman, condition evolve when you're Bitten by Moonlight.
I have been really excpited about this ever since I heard Catherine Lundoff talking about her werewolf writing. (Her story is "Silver Moon.") I wish there was a better cover; that werewolf is not doing it for me at all, and by that I don't mean it's not sexy and that's why it's bad, but because it doesn't work for me as a werewolf. Still, I have high hopes for the stories.
(The other two books were Band Geeked Out by Josie Bloss and Out for Blood by Alyxandra Harvey.)
—
So this is the end of the Month of the Werewolf, at least until October 2012. Maybe then I will be able to post every day. Tomorrow, I will be at work for most of the day, but then I am coming home to watch The Howling and Cursed, two of my favorite werewolf movies. I'd hoped to track down some of that Newcastle Werewolf Blood Red Ale, but alas, none of my alcohol suppliers have yet been able to track it down for me. Still, werewolf movies and a gorgeous Halloween night will be a delightful way to celebrate.
Happy Halloween! Happy Month of the Werewolf!